Putting on a show at Melbourne Fashion Week is a dream come true for 20 of RMIT's Fashion students.
Having spent the past two years studying online due to COVID-19 lockdowns, Honours student Edie Pell says it is a relief to be able to wrap up her studies with an in-person runway.
"I'm so grateful that we get to do an in-person show, I've had enough of the fast-paced digital world," she said.
"I know that once I sit in my seat at the show and see the models walk down that runway wearing our clothes, I'll become a sobby mess! I'm ready to feel!
"The last few weeks have been really nice seeing people and their work in the flesh in the studio.
"Fashion design is very hands on, and a camera doesn't really capture the experience of touching and looking at the intricate details in people's work."
RMIT talent nominated for prestigious design award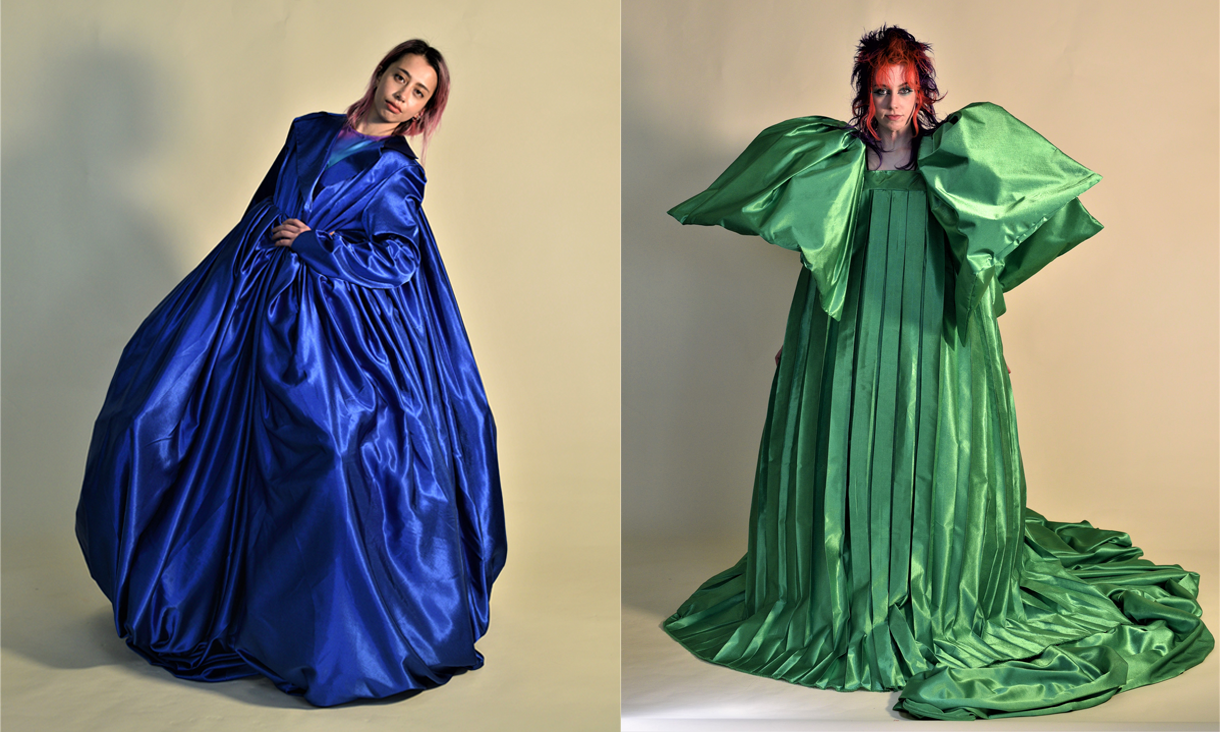 RMIT students Kritikon Khamsawat and Lilli McKenzie have been nominated for Melbourne Fashion Week's coveted Student Design Award, which celebrates excellence in innovation, construction and research.
This year's prize includes an internship with fashion label Viktoria and Woods, a membership to the Australian Fashion Council, and the opportunity to feature in Melbourne Fashion Week's 2022 program.
The winner of the award will be announced after the Student Collections Runway on Friday 19 November.
Kritkon's collection, Ma Void, aims to create garments through presenting them in spaces where fashion is performed such as the runway, a gallery or a studio. By using design construction techniques and utilising parts of second-hand garments the designer sought to give each piece a new purpose.
Lilli's collection, Looming Luxe, uses weaving methods re-imagined on the body to create one-off garments. Using sustainable fashion practices, this collection distinguishes itself with a methodology that uses the body as a loom.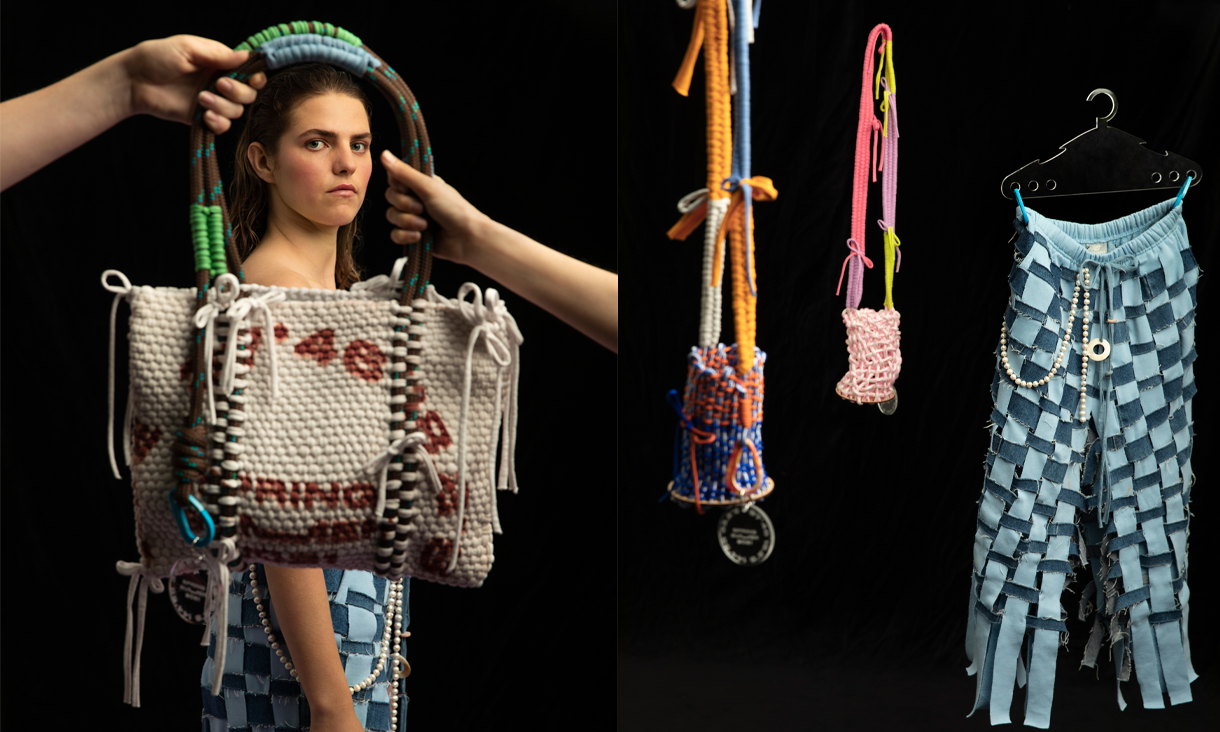 Meet 5 RMIT students who will feature at this year's Student Collections Runway
Edie Pell
Edie's collection holds an amalgam of esoteric, theatric and hallucinogenic visuals influenced by Kenneth Anger's films and witchcraft. It features threatening and villainous characters embedded with positive subliminal symbols, as a response to how witches and some deities/mythical creatures are misunderstood as evil.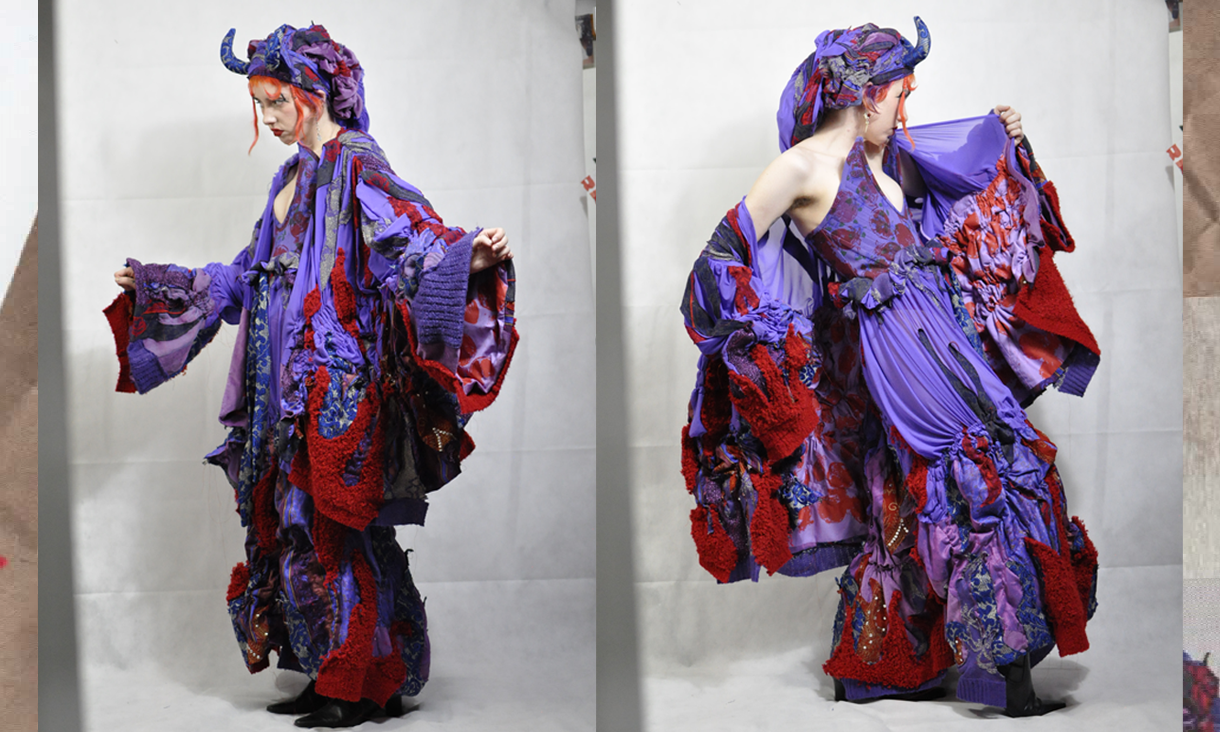 Alexander Beattie
HIGH TIDE is inspired by Australian vintage surf and swimwear combined with dystopian scavenger attire. The collection aims to envision an amphibious world, full of insects and mangroves. It features construction garments that can be useful when dredging through a muddy, sun bleached and flooded environment.
Carolina Hegeman
Carolina explores movement through tangible textures, stretch and weight in her collection Eros. The feminine silhouettes are a combination of strips, knots and drape on the bias. They are an extension of fluidity, further emphasised through the contrasting integration of metal embellishments.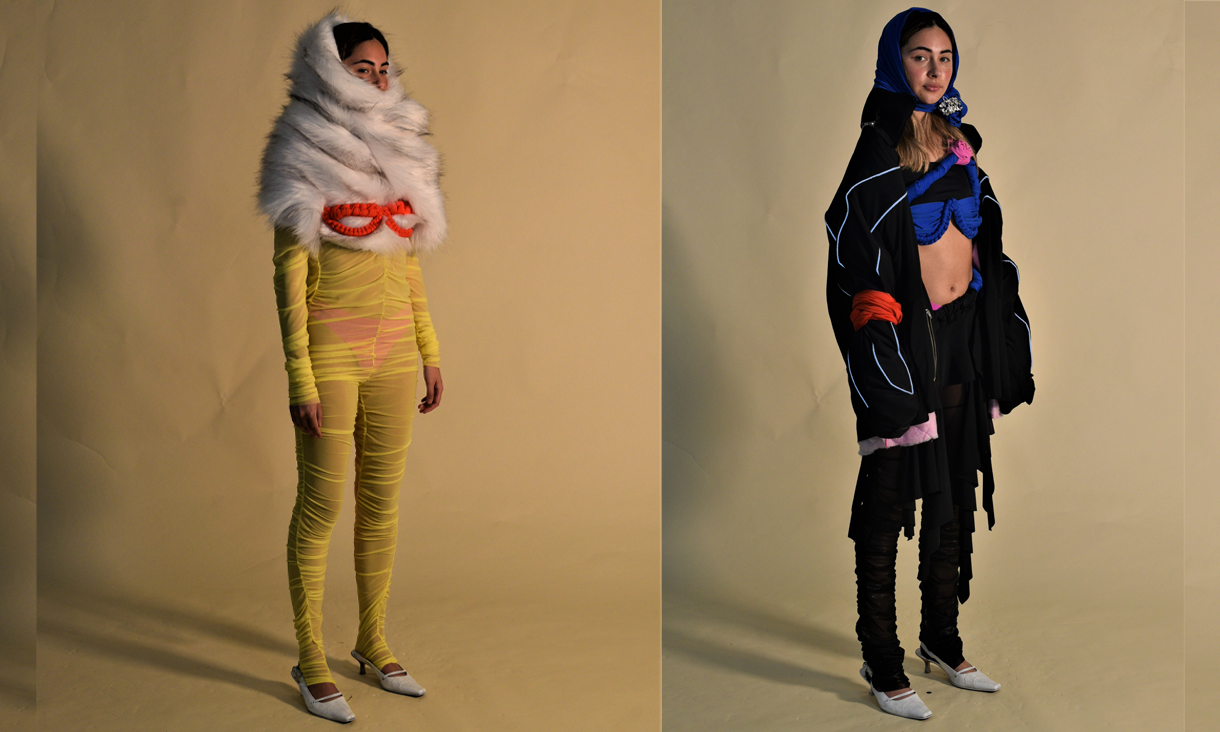 Liam Ramirez
Asian-esque! is a resort ready-to-wear collection which encompasses elements of tacky sportswear (especially boxing and basketball attire) and "exotic" dress stereotypes. Liam takes inspiration from Asian-Australian visual culture and mixes classic menswear tailoring, queer dressing and industrial sewing techniques.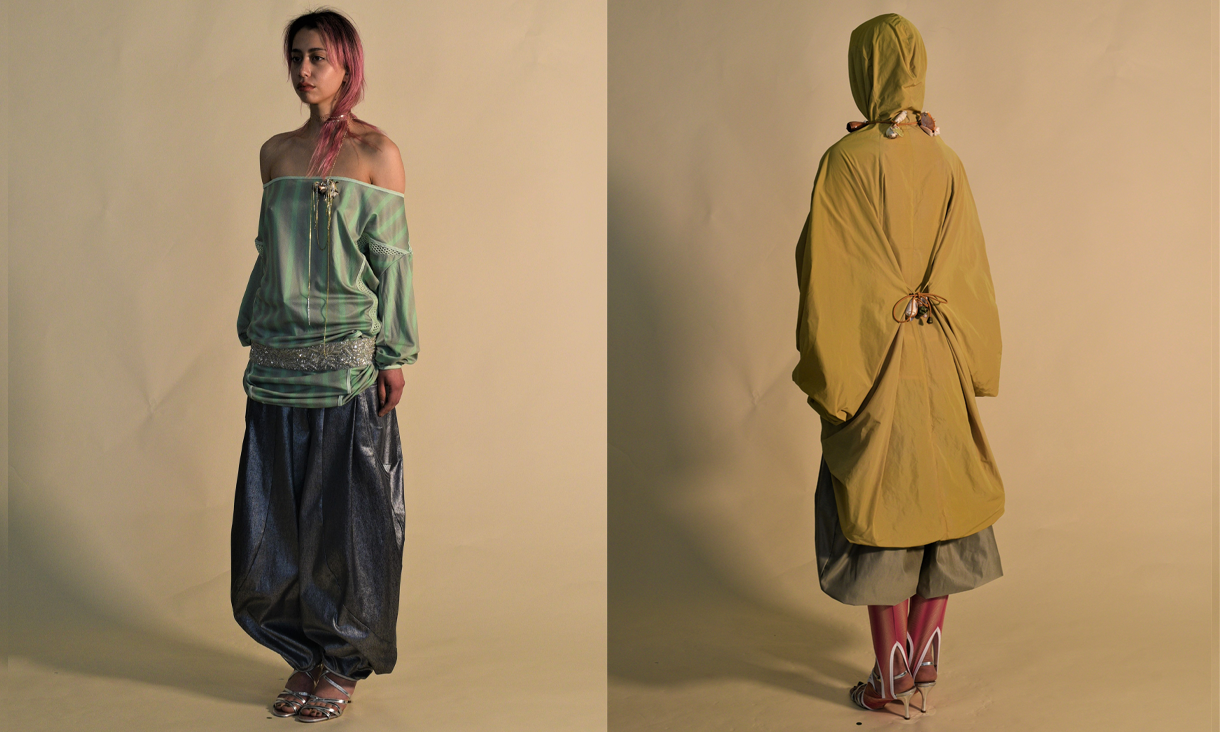 Ruth Hazell
Ruth's collection Vibrations is inspired by how materiality can be used to create unnatural shapes on the body by rethinking the materials. She was initially inspired by a second-hand straw hat that was unravelling and was encapsulated by the distorting shapes it created when combined with stretch fabrics.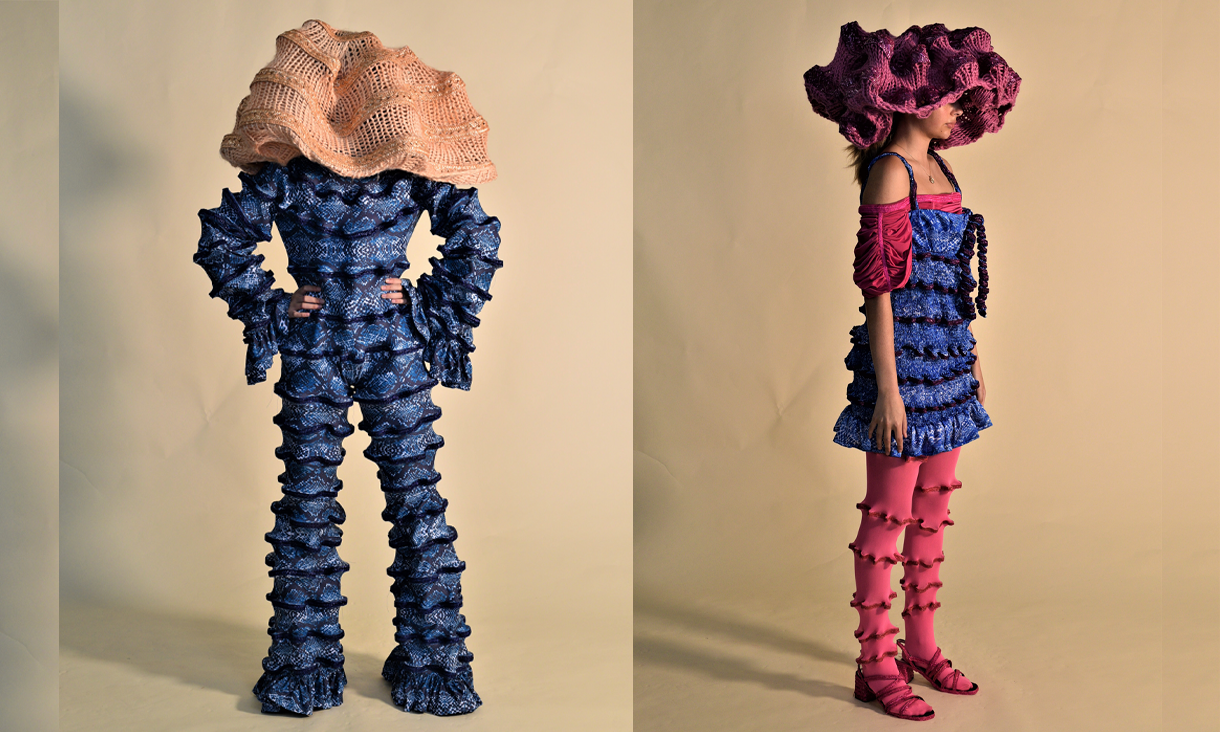 Melbourne Fashion Week runs from 15 – 21 November.
Story: Shu Shu Zheng