National award for innovation in learning, teaching and curriculum goes to Mel Wall.
Mel Wall, a geographer in the School of Environment, won a national tertiary excellence award for innovation in learning, teaching and curriculum.
Both her teaching in the classroom and her leadership roles were recognised by the prestigious Te Whatu Kairangi Tertiary Educator Award.
Active classrooms where relationships matter, and students draw on their own identities and experiences are key features of her approach.
"For a Māori student, the University of Auckland can be an alienating space… What helped to change this for me was Mel, through what she taught and how she taught," said one of her students.
Specialising in teaching controversial curricula, Mel's approaches have been highly successful, according to Ako Aotearoa, the government organisation which runs the awards.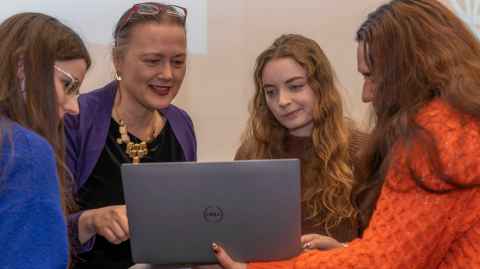 Embedded into the teaching and learning are the indigenous "Four R's": respecting students for who they are, being relevant to their world views, ensuring reciprocity in relationships, and helping students exercise responsibility for their learning.
Trust and confidence gradually build through this relational teaching, according to Mel, boosting student success.
"In teaching geopolitics, contested histories, and geographies of exclusion, issues such as nationalism, race, gender and class can enter the classroom," Mel says. "But the good thing about controversial topics is that students have skin in the game in terms of their experiences, identities, and cultures, so they tend to be much more engaged in their learning."
"FOR A MĀORI STUDENT, THE UNIVERSITY OF AUCKLAND CAN BE AN ALIENATING SPACE… WHAT HELPED TO CHANGE THIS FOR ME WAS MEL, THROUGH WHAT SHE TAUGHT AND HOW SHE TAUGHT"
Student
Working collaboratively, her students use research and case studies to challenge divisive and often deeply held misconceptions.
Exceptionally high student satisfaction scores have been a consistent feature of her teaching, which has helped thousands of students.
"One of the amazing things about Mel is, despite her large classes, she has a way of making each student seem as though she notices them and we feel like we know her," noted a student.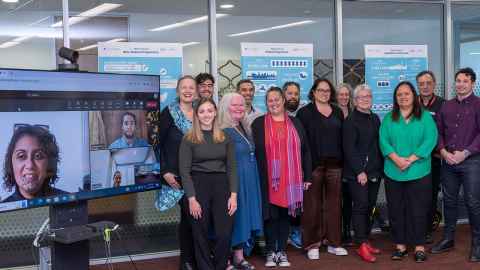 Leadership contributions to school, faculty, university and to Māori were recognised by the award. This includes Mel co-leading the development of the compulsory Waipapa Taumata Rau course from 2025 for all first-year students for the University's Curriculum Framework Transformation.
"I cannot overstate how crucial Mel's institutional, pedagogical and curriculum expertise has been for the University," says Te Kawehau Hoskins, Ihonuku, Pro Vice Chancellor Māori.
Taking on the ambitious endeavour to make Te Tiriti and knowledge of place foundational for all students, Mel has made a "vital contribution" to tangata Tiriti communities, indigenization practice, and ensuring Māori students, staff, ways of knowing, being and doing can thrive, Te Kawehau says.