Computer Science students at the University of Hull are being guaranteed a paid year in industry as part of their degree.
Students on the course at Hull have previously gained experience while working at some of the world's largest tech and data companies, including IBM and Microsoft.
A new programme launched at the University now means all undergraduate Computer Science students are guaranteed a fully paid year in industry.
Students will spend an initial three months working at Lampada Digital Solutions – a Hull-based tech firm which is wholly owned by the University.
After that, they will have the opportunity to enhance their CV and apply the knowledge and skills they have learned at university in the workplace.
Companies which have provided University of Hull students with internships in recent years include BT, IBM and Microsoft.
Dr Peter Robinson, Head of Department of Computer Science and Technology, said: "Most universities offer a year in industry – but the onus is often on the student to secure their own placement.
"Not many, if any, offer a guaranteed paid placement but we are able to do this because of our close working relationship with Lampada Digital.
"For students graduating from university and applying for jobs, having that real-world experience in the workplace is what could set them apart from the competition.
"It is an opportunity for them to apply what they have learned while studying in an industry environment, at the same time gaining valuable new employability skills.
"This new programme means Computer Science students at Hull will have an advantage when looking for jobs and taking their first career steps in the industry."
Computer Science students have previously completed internships at global tech companies such as BT, Microsoft and IBM.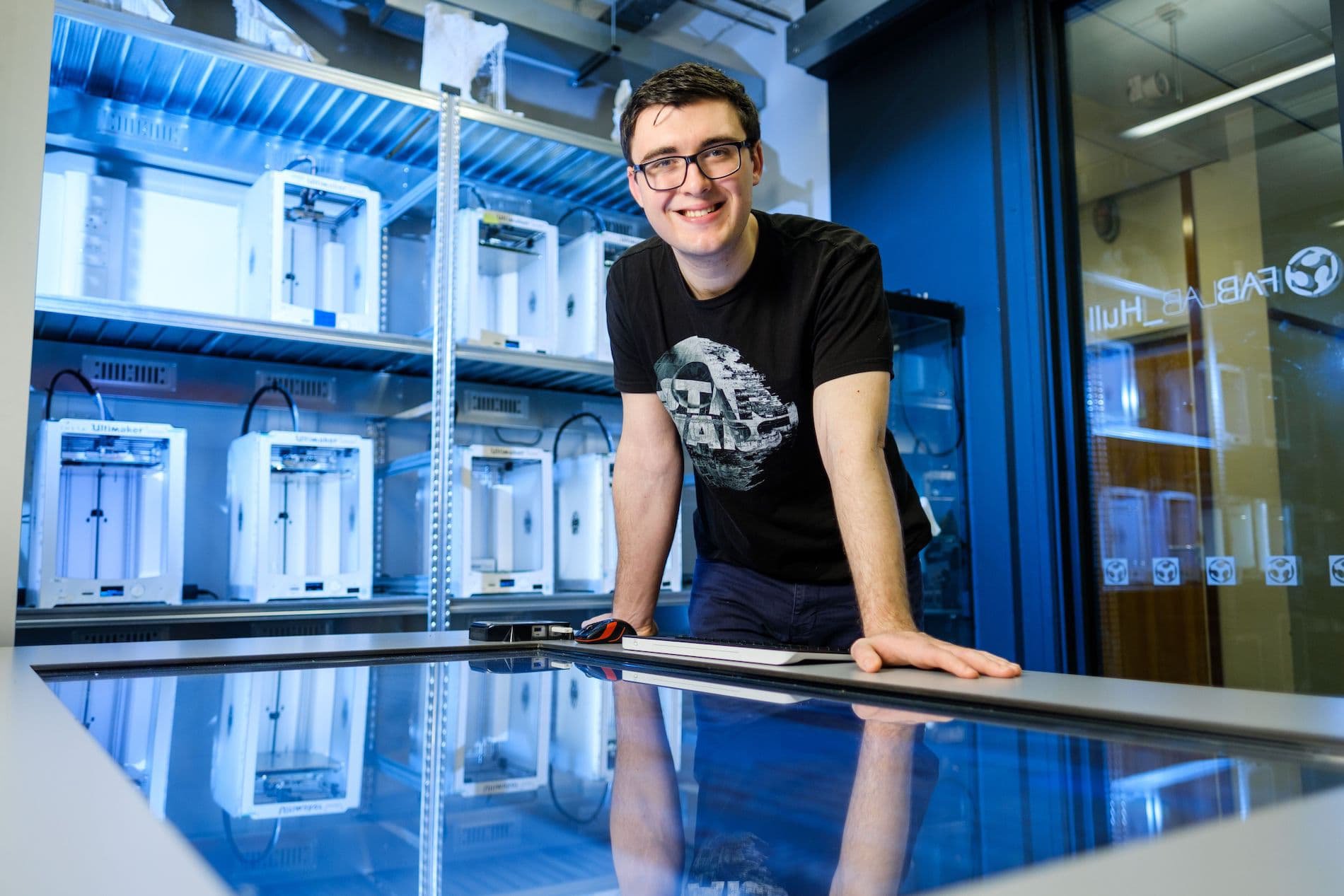 James Gordon, Computer Science alumni
One of those students was James Gordon.
While working as an intern at IBM, James worked on a number of cutting-edge java-based development and test programmes. He also had the chance to learn some new skills around 3D printing, Internet of Things and cloud-based technology.
Since completing his internship, James has joined IBM permanently as a Graduate Software Engineer.
Speaking about his internship experience at IBM, James said: "The year will be one of the most challenging you've ever faced – but in my opinion, it's worth it.
"You learn to apply your university knowledge, you learn how to manage your time which is essential for being successful. Everyone should do a placement year just for the soft skills that you learn.
"I also learned how to manage my time between multiple projects and my university responsibilities. In my opinion, that's by far the most challenging and most important thing anyone can learn. It takes commitment to achieve a successful year out.
"Overall, I made some amazing friends and would do it again in a heartbeat."
Students who take a year in industry often come back with a clearer idea of what options they want to choose in their final year and frequently achieve a higher-class degree.
Many students even get a job offer from their placement company or are fast-tracked through the initial stages of the recruitment process.
Work placements normally start in June at the end of the second year and last for a full calendar year.
Under the new programme, students will start their year in industry at Lampada Digital Solutions.
Lampada specialises in areas including software development, eLearning platforms, Virtual Reality, Augmented Reality, Mixed Reality and are experts in the field.
Andy Parkinson, CEO at Lampada Digital Solutions, said: "We are delighted to be supporting this initiative. We are currently seeing an unprecedented demand for software developers in the industry, and we know that businesses are looking for people who've had some form of industry experience on top of what they've learnt in the degree as it reduces their training time once employed.
"Recent graduates with only one or two years of experience are commanding very impressive salaries, demonstrating the value of gaining industry-relevant experience as early in the career as possible.
"For the first three months in Lampada, we'll be training students in broad commercial skills, development operations, project delivery and prototyping where they will get to work on a range of emerging technologies.
"This will allow them to hit the ground running when joining a business for their placement and to maximise the experience they can gain from it."