Human resources expert Dr Deepika Jindal and her former student Amy Raine celebrated their successes at the 2022 Human Resources New Zealand Awards.
If you want more from your job, craft it to suit your style, says job crafting proponent Dr Deepika Jindal, who was named a finalist 2022 Human Resources New Zealand (HRNZ) leadership category this month.
Meanwhile, Deepika's former student Amy Raine won the 2022 Human Resources New Zealand Student of the Year award, and she's already working to create change in the veterinarian industry.
Both Amy and Deepika were elated to be recognised in the annual awards, which celebrate excellence and outstanding achievement within Aotearoa's HR community.
As well as being an academically exceptional student during her time studying at the University of Auckland, student of the year award winner Amy mentored fellow HR students and served as a student representative, all the while working part-time as the HR coordinator for The Strand Veterinarian.
"I like that human resources can make things better for staff, and the HRNZ awards highlight those people who are trying to make a difference to balance the needs of employees and businesses."
The former vet nurse became interested in HR when she was studying towards her degree in science, majoring in psychology and biology, and she's currently using her skills at the Strand, where she focuses on staff wellbeing.
"Traditionally, the vet industry is severely lacking in terms of staff wellbeing, and it has been known for low pay and long hours. It has had a reputation for being quite an extractive industry, but I think this is changing. Clinics like mine are working to improve things, as evidenced by hiring human resources staff," says Amy.
"Wellbeing is quite a big focus where I am currently, and we do monthly check-ins to see how people are going."
When Amy started studying for her Master of Business Management specialising in human resources, she wasn't sure what to expect and says it was very different from her undergrad experience.
"I really enjoyed it. Deepika was an inspiring teacher and she did an outstanding job bringing in industry speakers. It wasn't just one or two – there were multiple speakers from various industries so we had this regular supply of people who told us what HR was like in the real world – it was a great way to ground theory into practice."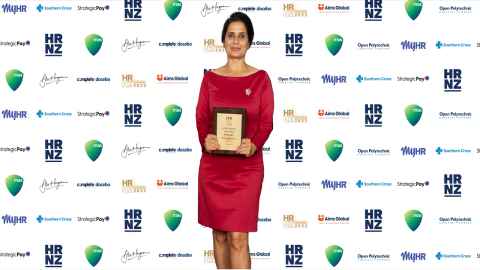 Deepika, who was a finalist in the leadership category at the HRNZ awards, is passionate about encouraging her students and colleagues to shape their work experience into one that suits and harnesses their unique skill sets. This is something that Amy has done at the Strand as she has progressed through different areas, incorporating her skills and personality into her various roles.
"Job crafting is a means through which leaders can allow employees to personalise their
work," says Deepika.
"One way of job crafting is by being proactive and looking for a way to bring in areas of
interest. First, you need a supportive environment, and then you can slowly shape your role incorporating areas that include things you're passionate about."
Deepika has been teaching at the University of Auckland Business School since 2014 and works to contribute to the field of human resource management through research, teaching, and practice. She is a passionate advocate of job crafting and often speaks about how people can do their job while also crafting it to suit their interests.
"I have been crafting my jobs my whole life by incorporating things that fit my needs, preference and skills. As an academic, I have continued to embrace job crafting, and I have an excellent team at the business school who give me my freedom and support me."
Learn more about the annual awards here.