China's recently appointed New Zealand Ambassador paid his first visit to Massey's Manawatū campus, continuing a long-standing association between the university and China's Embassy.
The visit is Dr Wang Xiaolong's first formal visit to a New Zealand university since he arrived in the country earlier this year. The delegation visited the FoodPilot Plant, Massey farms and the School of Aviation, and also attended a lunch hosted by Vice-Chancellor Professor Jan Thomas.
During his visit, Ambassador Wang noted that Massey is a world-renowned university with a high level of teaching and scientific research in the fields of agriculture, animal science and food science. He was impressed by Massey's strategy in providing world leadership in pure and applied research, conducted in partnership with industry and the community.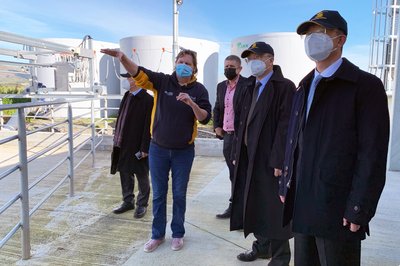 This year marks the 50th anniversary of the establishment of diplomatic relations between the two countries, and Vice-Chancellor Professor Jan Thomas says China is an important partner of the university.
"Massey's interests and engagement in China are as broad as they are deep ranging, and it has developed an impressive track record of mutually beneficial collaboration with Chinese universities, government and industry partners in flexible and highly innovative ways."
"Massey is committed to further deepening cooperation in teaching and scientific research with Chinese universities, and we look forward to resuming mutual visits for teachers and students between Massey and its partners as soon as the Chinese border regulations allow," Professor Thomas says.
Under the Cohort 4 border exemption, Massey will be welcoming 116 Chinese students back on to campus. They are expected to arrive during Semester 2, 2022.