On December 15th, the award ceremony of the 11th "Good Supervisors in My Mind" was held in the Humanities Hall of WHU. Voted by the graduates, faculty members and alumni, 10 professors, namely, Zhang Yuanzhen, Zhao Huijiang, Yang Bisheng, Wang Xinyan, Lan Ke, Guo Yuzheng, Yuan Quan, He Xiaohua, Jiang Weiping and Hu Ke, were awarded "Good Supervisors in My Mind". Dou Xiankang, President of WHU and Qu Wenqian, Deputy Secretary of the Party Committee of WHU attended the award ceremony. Teachers and students from all schools (departments) gathered to pay tribute to those excellent supervisors.
The Award Ceremony
At the award ceremony, representatives of graduates presented trophies and certificates to the 10 professors. Those supervisors also shared their feelings and their touching stories.
Zhang Yuanzhen, professor of the Second Clinical College, presented her care for students' study and life. "The main role of a supervisor is to guide students in both their studies and mentality and provide them with psychological consultation when necessary. It takes a long time to become a qualified doctor and the students should endure loneliness. We, as supervisors, are a beacon of hope for them in this process," she wished students to be happy both in life and work.
Zhao Huijiang, professor of the School of Mathematics and Statistics, said, "I'm very happy and excited to receive this award, and it is given to me by my students, which makes it even more significant. As a teacher, I have learned a lot from my students. I want to take this opportunity to thank them and thank you all." His sincere words and a deep bow deeply touched the audience and triggered applause.
Jiang Weiping, professor of the National Engineering Research Centre for Satellite Positioning System, gave his own answer to how to be a good supervisor. "I hope to impart knowledge to students, improve their abilities and cultivate the ideas so that they can become happy, responsible and competent." He sent a unique blessing to the students combined with discipline characteristics, "A precise satellite positioning makes life better and more convenient while a precise positioning for ourselves makes us more successful and wonderful."
Wang Xinyan, professor of the School of Philosophy, quoted Marx's famous words, "If we have chosen the position in life in which we can most of all work for mankind, no burdens can bow us down, because they are sacrifices for the benefit of all; then we shall experience no petty, limited, selfish joy, but our happiness will belong to millions, our deeds will live on quietly but perpetually at work."
Lan Ke, professor of the College of Life Sciences, said, "This year marks the fifteenth year since I engaged in postgraduate education, and this award encourages me a lot. There is an old saying in Chinese: Indigo blue is extracted from the indigo plant but is bluer than the plant it comes from. As a supervisor, it is an eternal pursuit for me to guide students to be excellent. In the future, we will continue to forge ahead in scientific research and strive to provide better platforms and opportunities for our students."
Guo Yuzheng, professor of School of Electrical Engineering, said, "This award serves both as a recognition of my work and an inspiration for me. I am going to take this opportunity to work harder. I hope that with my guidance, my students will be able to build a more improved academic framework and personality. Thus, they can contribute to the society whatever the position they take."
"We are teachers and students as well as friends," said Yuan Quan, Professor of the College of Chemistry and Molecular Sciences, referring to how he usually gets along with his students. "Over the past eight years, I have received many awards and honors, but today's award is the most special and important one, because it is a recognition of my career as a university teacher."
Professor He Xiaohua from the School of Basic Medicine expressed her gratitude to WHU and the students, and mentioned her teacher sentimentally. She said, "This is both a precious honor and a warm award ceremony. At this moment, I think of my brilliant mentors, who took their work seriously, showed great consideration for their patients, and cared for their students. I learned a lot from them and I am very grateful for their education."
Yang Bisheng, Professor of the State Key Laboratory of Information Engineering in Surveying, Mapping and Remote Sensing, said, "This honor is not only a simple reward, but also a kind of responsibility, for it carries the appeal of the majority of graduate students to their supervisors, hoping that the supervisors can care more about them. Cultivating qualified students is the primary goal of every tutor, and this award encourages me to keep my original intention unchanged and forge ahead."
Professor Hu Ke of the First Medical Clinical School said, "I have been working for 30 years as a doctor, and it is my goal to be a good doctor. After I joined WHU, for me, medical teaching and scientific research have been integrated. To get this award today is an unexpected encouragement to me." As a worker on the front line during the COVID-19 epidemic, he shared unforgettable stories, in particular, the lifelong honor for him to be received by President Xi Jinping at the Huoshenshan Hospital.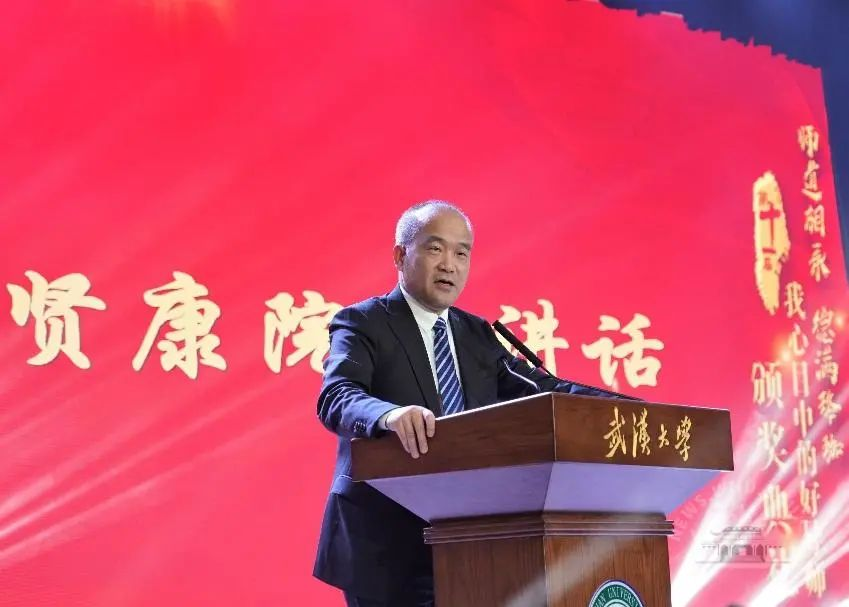 President Dou delivering a speech
At the ceremony, President Dou Xiankang delivered a speech to all the graduate students, stating that the school will adopt various methods that put the students' interests at first in an attempt to foster the development of students, whose talents will benefit the society. At the same time, President Dou also sent a message to the students, "Living in this great era, I hope that the young people of your generation will make unremitting efforts and keep fighting, never take shortcuts in the struggle and adhere to the conscience and bottom line,. In this way, in the future when looking back, you are bound to feel that you have never wasted your lives. The real extraordinariness is working hard in any position. I hope you can set such an ambition to make your own contribution in the realization of the Chinese Dream of the great rejuvenation of the Chinese nation.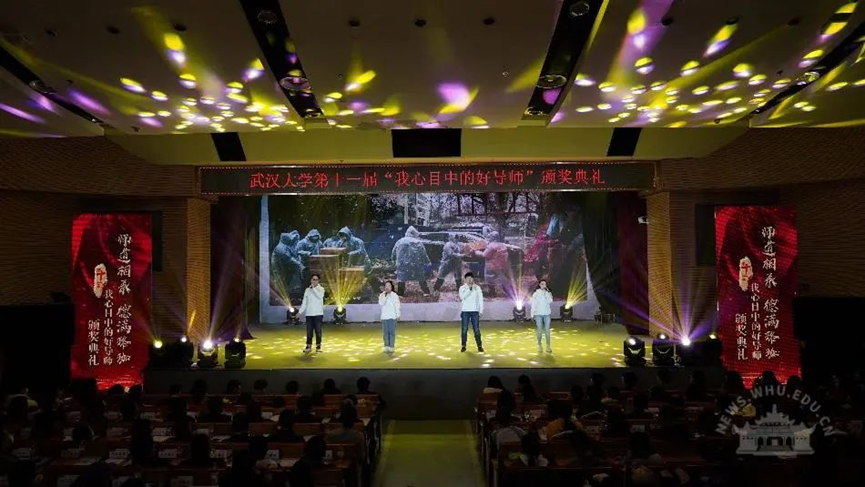 The show time of the award ceremony
Then the show time began with "Spring Blossoms" performed by the Graduate Dance Team of WHU, which expressed the students' sincere thanks to their supervisors for their teachings. The song "What a Big Tree" by the Graduate Chorus paid a warm tribute to the sacrifice of the supervisors. In addition, the Tibetan folk dance "Inner Voice" conveyed the appreciation on the virtues of supervisors and demonstrated WHUer's ambition to move forward in the new era with the original mission in mind.
"Good Supervisors in My Mind" was sponsored by the Graduate School of WHU and the Communist Youth League Committee of WHU and was undertaken by Graduate Union of WHU. Sticking to the concept of "nominated, elected, and awarded by the graduates", it had been held for eleven times with more than one hundred supervisors being awarded "Good Supervisors in My Mind"
Rewritten by: Cao Mi, Shi Shang
Edited by: Luo Yuanyuan, Li Yushan and Hu Sijia