A writer of flash fiction, extremely short stories, has won the University of Auckland's $5000 Sir James Wallace Creative Writing Prize for the first time.
A graduate of the one-year Master of Creative Writing programme in the Faculty of Arts, Jack Remiel Cottrell's winning collection, For the convenience of other sinners, includes pieces of microfiction (less than 280 characters), mini-fiction (less than 100 words) and flash fiction (less than 300 words).
The stories are also written in diverse styles, including speculative fiction, ghost stories, sports fiction, lists, spoof brochures and documents, and mainstream fiction.
External examiner, acclaimed Christchurch-based writer Frankie McMillan, called Jack's collection "fiercely intelligent, poignant and endlessly surprising ".
"His ability to illuminate both every-day and otherworldly lives to find the complexity, irony and tenderness within, is extraordinary."
And his supervisor, author and scholar Associate Professor Paula Morris, describes his work as "original, accomplished and very fresh".
Apologising for the cliché, Jack says he was "stunned and grateful" to have won.
"I walked around for three days afterwards feeling like I'd been hit by a bus, but in a good way."
I SUPPOSE WHAT REALLY SOLD ME ON FLASH FICTION IS BEING ABLE TO WRITE ABOUT WEIRD LITTLE THOUGHTS AND IDEAS WITHOUT WORRYING THAT IN 40,000 WORDS' TIME, IT WILL TURN OUT TO BE STUPID.
Jack Remiel Cottrell2020 Sir James Wallace Creative Writing Prize winner
Student life hasn't been easy for anyone this year with so many workshops and seminars held via Zoom, and with autoimmune issues to manage, Jack retreated to a bach near Lake Taupo, living alone for several months with just mobile internet for company, and thoroughly enjoyed the experience.
"I'm the most introverted person I know, so when I didn't have to spend all this brainpower trying to juggle a part-time job and a full-time masters, or just dealing with the stresses of human interaction, I was able to be far more creative than I have in a long time. After 10 weeks alone I was ready to become a hermit, except I would miss my rugby."
He became a writer "because I'm really no good at anything else" and in his day job, he works in online communication, "putting words on websites and Facebook".
Previous jobs include being a journalist, a waiter, 'a social media monkey' for a cricket team, an admin assistant, a nanny, an exam paper sorter, and a WordPress wrangler.
"These experiences have all shown up in my manuscript, to a greater or lesser extent."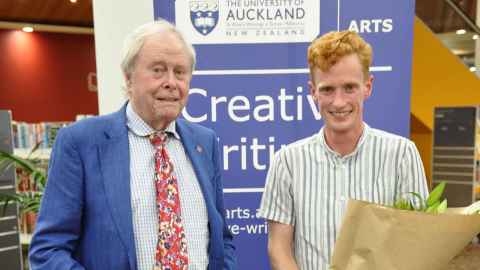 Jack says the very short fiction style chose him, rather than the other way around.
"I've always written short, and I've always enjoyed reading short stories. I have a very short attention span, and I like playing with words. I suppose what really sold me on flash fiction is being able to write about weird little thoughts and ideas without worrying that in 40,000 words' time, it will turn out to be stupid."
In terms of inspiration, he's just finished reading Eight Detectives by British writer Alex Pavesi, which involves three of his favourite things, "Agatha Christie pastiche, short stories, and metafictional weirdness," and names Neil Gaiman, Lydia Davis, Ted Chaing, Jarrod Kimber, and "literally all of the New Zealand flash fiction cabal, who mostly seem to be in Christchurch for some reason" as writers he admires.
What's next, says Jack, "is attempting to write something over 10,000 words long" and beginning the process of getting his masters manuscript published.
And if the 2017 Wallace winner Amy McDaid, whose debut novel Fake Baby was published this year and remained on the bestseller list for several months, is anything to go by, we can expect great things from Jack Remiel Cottrell; small but perfectly formed, of course.